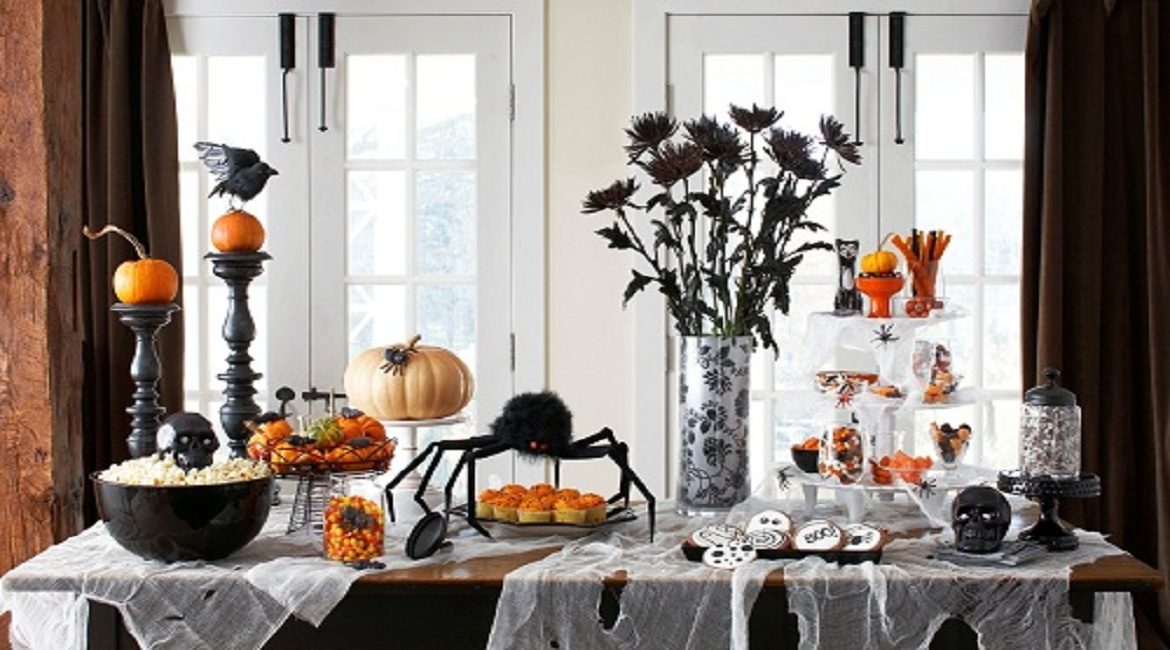 Oct
25
Best festive Tips for Halloween 2018
October 25, 2018
0 Comment(s)
Festival times have already begun and everyone has started to decorate their homes in different colors and patterns. Sellers are also providing huge discounts on their items. It is the best time of the year in terms of enjoyment and discounts on expensive items. Halloween is just around the corner, so prepare your haunted house for the festivities by decorating any area where guests will gather, including the outer space. But adjust the scare factors according to the age group. Find the best way to decorate each room in a scary way.
1) Bedroom: –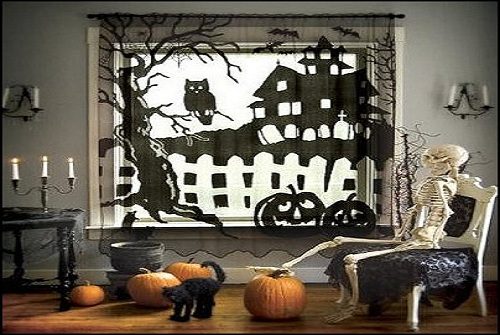 Black and orange color is famous for Halloween theme. There are many things which you can do for a bedroom. If you have kids then make sure that you don't make the room scarier. Put the accessories which represent ghost-like Bat, spider stickers, scary paintings on wall, pumpkins and a black cat statue close to your bed. Put a chair in front of your bed and put a skull on it. On the window, make a web of spider and then stick some handcrafted spider on it. You can also add an owl like this image. Without spreading a pumpkin, the decoration of Halloween is incomplete. So make pumpkin masks and spread it in front of your bed. Winter is just about to come so with the decoration you should provide a warm touch to your space. Take a black or orange color handmade carpet and put a handcrafted spider on it (in case, if your carpet did not contains scary look).
2) Dining room: –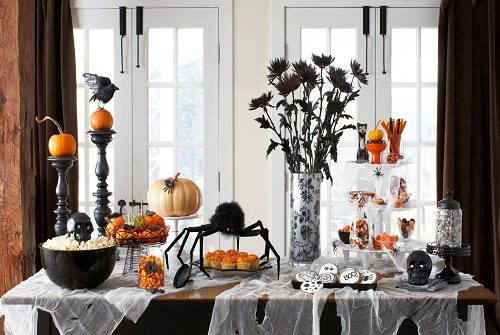 The dining table in the main part of a dining room. So this is a place where you can give surprises to your guests. Use black color haunted accessories like Skull and put it on the dining table. Put a very thin cotton dining table cover. Put scary faces pumpkins on the table. A beautiful vase with fresh flowers gives a very classy look to space. So, pint your vase in black color and put orange color flowers in a vase. 
3) Living Area: –
This is a place where most of the people visit. Use an orange color handmade area rugs for decorating your living room.  Fire place is the most important area where you can show your creativity. Use candlelight to make dark shades in the corners. For a candlelight, you can use candelabra. Use ghostly white papers and flying bat stickers. Place this paper on window and stick the bat stickers randomly on the paper. Take spider sticker, skull, hard broom and other accessories and put theses like the below image.
So follow the above ways, which you can apply for decorating your home in the best possible manner this Halloween. Give a fresh and haunted look by placing a beautiful orange carpet on the floor as well as provide safety and coziness to your décor. You can buy online carpet from Rugs and Beyond and if you want to buy a rug offline then visit Yak carpet which is situated in New Delhi.