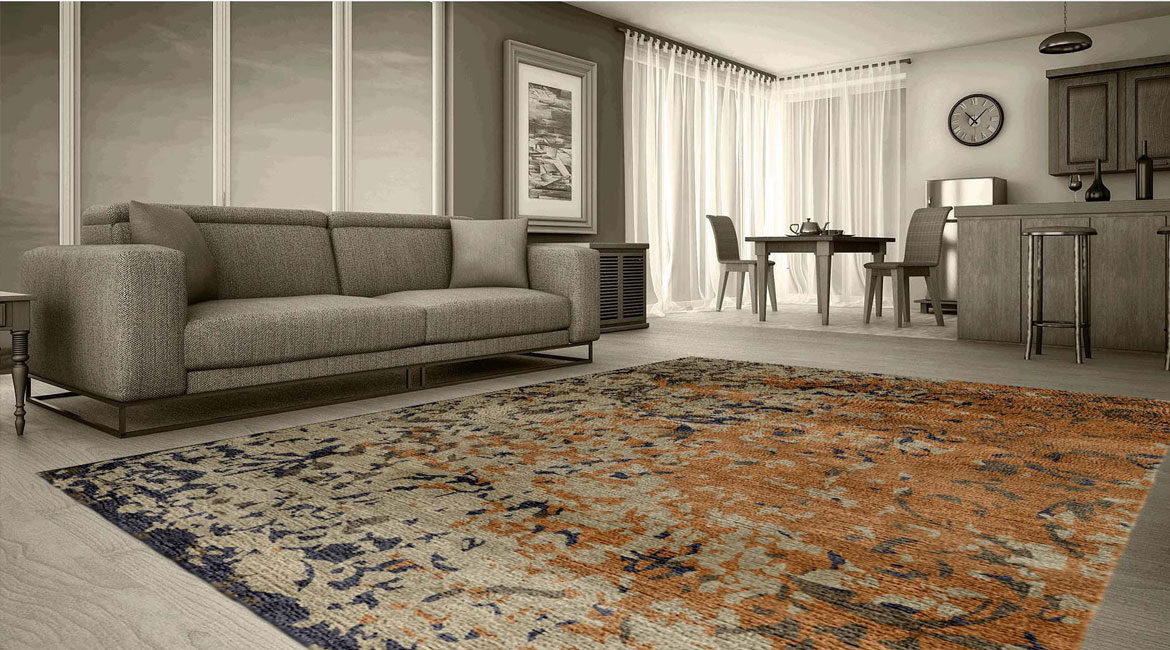 Mar
28
FAQ and Rug 101 about Persian Handknotted Carpets
March 28, 2019
0 Comment(s)
How to weave a Persian Area Rug?
Persian area rugs are the finest quality carpet in wool material. It is woven in pure New Zealand wool and cotton. Persian rug is known for its thick pile and soft texture. It is woven in hand-knotted technique. Colouring, spinning of wool, washing process are same for all type handmade carpets but the weaving techniques are different. Handknotted technique is the oldest technique to make rug. In this technique, the size of loom depends on the size of carpet. Loom is the set of vertical and horizontal beams. It is adjustable so weaver can adjust the size according to the size of carpet. After that, they create a foundation of cotton material which is called warp and start weaving from down to up process. They use pure New Zealand wool as the weft. During weaving, many hand-tied knots are added in rows to the warp threads. Then weft threads are interlaced above them and packed down with a comb to hold the knots in place. It is woven according to the design and color of the carpet.
What is the difference between Persian Rug and Oriental Rug?
Handmade carpets are woven in pure natural material like pure New Zealand wool, mountain wool, pure cotton, and jute, banana silk, and pure silk. It is woven in three techniques – handknotted, handtufted and flat-woven. Persian rugs are originated from Persia in 12th -16th century. It is woven in pure New Zealand wool and cotton material. It contains traditional design which is mostly originated from Persia like Kahsan, bidjar, Ardabil, Medallion, Floral, etc. Mainly, that carpet which is woven in Persia using handknotted technique and made in pure New Zealand wool and contain Persian design pattern called pure Persian Carpets. Nowadays many countries are making a handmade rug in Persian designs.
Oriental rugs are also made in pure New Zealand wool and cotton material but it is originated from China. Any carpet may be Oriental rug but not Persian carpet. Only that carpet is known as the Persian carpet which is woven in Persia.
Why are Kashmiri silk rugs known as the most luxurious carpet around the world?
First time, It was during the mid of 17th century Mughal Indian Kashmiri carpet was displayed at the Crystal Palace exhibition in London and it was very appreciated by the Europeans. Kashmiri silk area rug is made in pure silk rug which is imported from China. It is known as the best silk around the world. Kashmiri silk carpet contains "One of a kind" design pattern which is inspired by the Persian motifs. It contains very tiny floral motifs including birds, trees, etc. It is woven in traditional design pattern such as Medallion Kashan, Hamadan, Qum, etc.   
What are the specialties of handknotted carpets?
Handknotted carpets and rugs are known as the best carpet around the world because it is woven in pure natural material on a handloom. It is a highly durable rug. Handknotted traditional carpets contain "one of a kind" design pattern which is originated since many years ago from different countries. It is woven in Persian design, oriental designs and in Indian carpet designs. This is 100% hand washable and 100% hand woven. It is anti-slip rug and use for safety purpose. Crome dye is used for providing vibrant and 100% fixed color to the carpet.
Read More: HOW YAK CARPET DOMINATES THE INDIAN CARPET INDUSTRY?