Mar
06
Why is it Important to Support Women Weavers this Women's Day
March 6, 2018
1 Comment(s)
Handlooms are being used as a tool for Empowering Women in India. For more than 100 years, International Women's Day is been celebrated to support extraordinary struggles for women, gender equality and to accelerate empowerment in society. It is a day to reflect the progress, change the mentality and celebrate the acts of courage and determination by ordinary women, who have played an excellent role in the history of their communities. Handloom is a traditional business for women for a long time. Many years ago or at the time of kings and emperors, where the men were hunter and warriors, women were worried about the gathering of food and the maintenance of agriculture. After that time, women started preparing many crafts like pot, leather clothes, home building and technique of carpet weaving. Carpet weaving was the beginning of the whole series of great traditions of our woven weavers. Now find the reason why is it important to support women weavers this Women's Day-
They are the soul of Indian Culture and Tradition:
At this time, when people are  focusing on promoting major industries, it is disappointing to see the fall of such works of art and craftsmanship, which shows the traditional and  cultural values ​​of weavers. Women weavers are the soul of Indian Culture and tradition so we should care about it. Indian handmade rugs are famous worldwide and it is also known as the most intricate craftsmanship. So we should support and encourage women weavers to retain the glorious tradition of Indian Art and culture.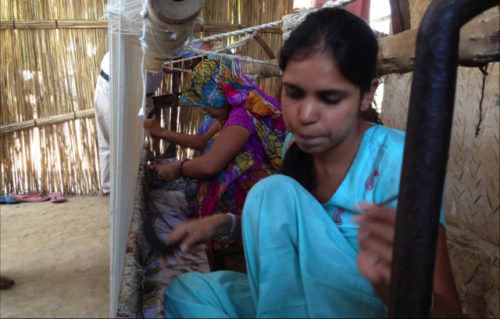 Providing a platform to show talent of women weavers:
In most of the villages, the family members do not allow a woman to work outside. So, handmade carpet industry is a great platform to show the skills and talent of women weavers at the top level. This Women's day we should provide the proper training and seminars regarding craftsmanship so that they can get to know that how they can earn money by weaving handmade rugs. India is known for the carpet industry so we should also promote it on a large scale.
After agriculture, the textile industry is the second largest industry in India in terms of employment. Out of the 38.47 lakh adult weavers and allied workers in India in which 77.9% are female and 22.1% are male. Weaving is major source of livelihood for rural tribal women in industrially backward states of India.
Self-Dependent:
This is also a platform where Women weavers can earn money and can help to their family. This is the best place to make a village women weaver self-dependent. This is a safe job for them which they can do from their home. We should definitely support the women weavers who manage their home and job very nicely together. So we should provide some education regarding the material and designs, so they can also read and write which is very beneficial for them. So that, in future they can face all situations with self-dependent and confidence.