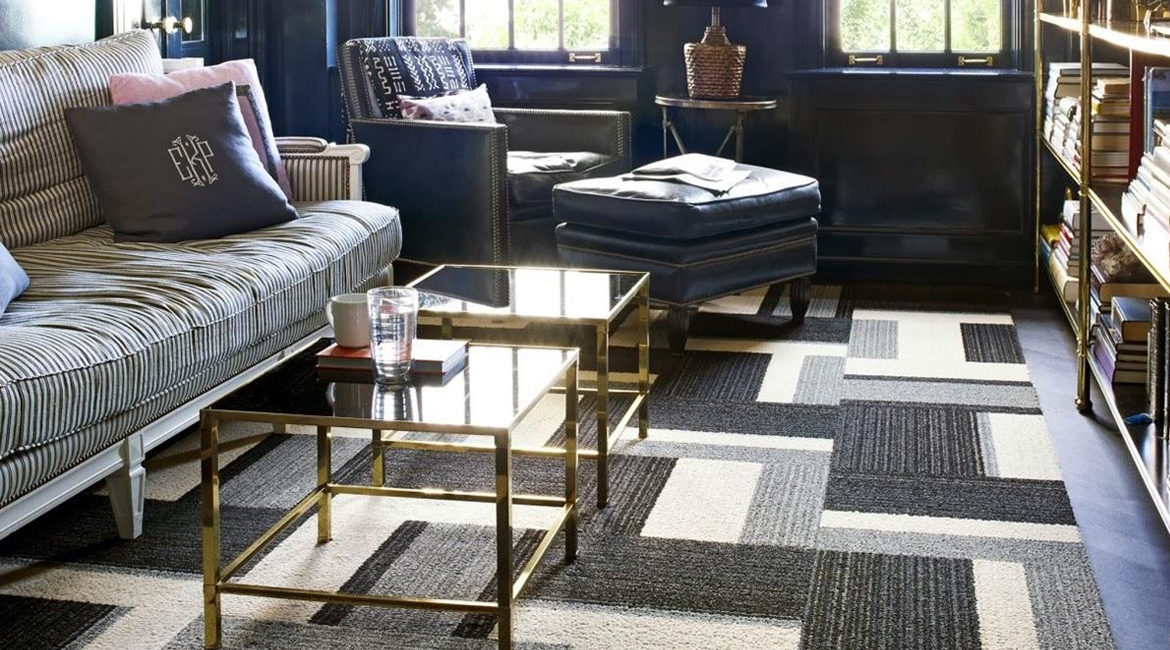 Jun
22
Indian Carpets with a Contemporary Twist that will floor you
June 22, 2018
0 Comment(s)
Modern carpets are woven in hand-knotted and hand-tufted techniques using finest quality of cotton and pure New Zealand wool. It contains geometrical, abstract, contemporary, Erased patterns in minimum color combinations. But nowadays you can find a handmade carpet for a contemporary look in traditional style. These types of carpet contain soft colors in traditional pattern. Now I am going to tell you about three best handmade modern carpets which are very suitable for the contemporary interiors.
Russian Winter Designer Modern Area Rug:
Russian Winter Designer carpet is a beautiful handmade modern carpet which is specially designed for contemporary home interiors. This is a designer piece and has taken many months to weave. The theme of this carpet is taken from a river which is flowing between the mountains and the dark jungle. In the center of carpet, the design looks like a river which is filled with water and sides are covered by the ice in a dark jungle. This is a masterpiece and looks like a hand painting because the design of this carpet is very fine. This is woven in the super quality of cotton in 20count by 20 ply and pure New Zealand wool and Bamboo silk mix. These materials are the pure natural materials which have been produced by the tree of banana and the sheep hair. This is 100% hand washable and highly durable carpet. Buy it from Yak Carpet at very reasonable price range.
Blue Sky Hand-knotted Modern Wool Area Rug: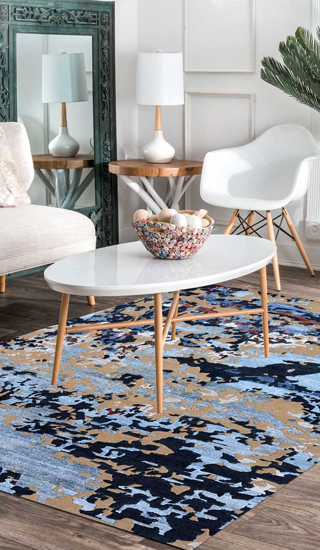 Blue Sky rug which is hand-woven in pure New Zealand wool and cotton material. The warp is in super quality of cotton and weft is in pure New Zealand wool. The ground of this carpet is in Blue color and the design is in beige color. The combination of blue, beige and navy blue always gives an outstanding look. Due to the Soft ground, this carpet is easily matched with any type of furniture. It is a hand-knotted rug and due to this technique, it is highly durable carpet.
East Meets West hand-knotted modern carpet: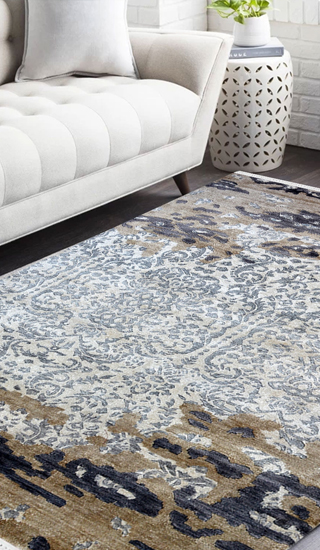 East Meets West Handmade carpet is woven for both classical and contemporary home décor. You can use it for both types of home décor. If you want to put a carpet which is ideal for the soft color curtain and other decorative accessories then this is the best carpet. It contains a modern type design which is very hard to weave. It is made of pure New Zealand wool and cotton material. Wool is used for providing a cozy, thick and soft touch to the carpet. Cotton is always used for providing a strong foundation for the carpet.
The above beautiful hand-knotted wool rug you can buy from Yak Carpet. Yak carpet is the best store for purchasing handmade rugs and carpets. If you want to take it from a store then you can visit Yak Carpet showroom which is situated in Ring Road Lajpat Nagar New Delhi.
Read More: HOW TO DECORATE A WHITE SPACE USING COLOR?