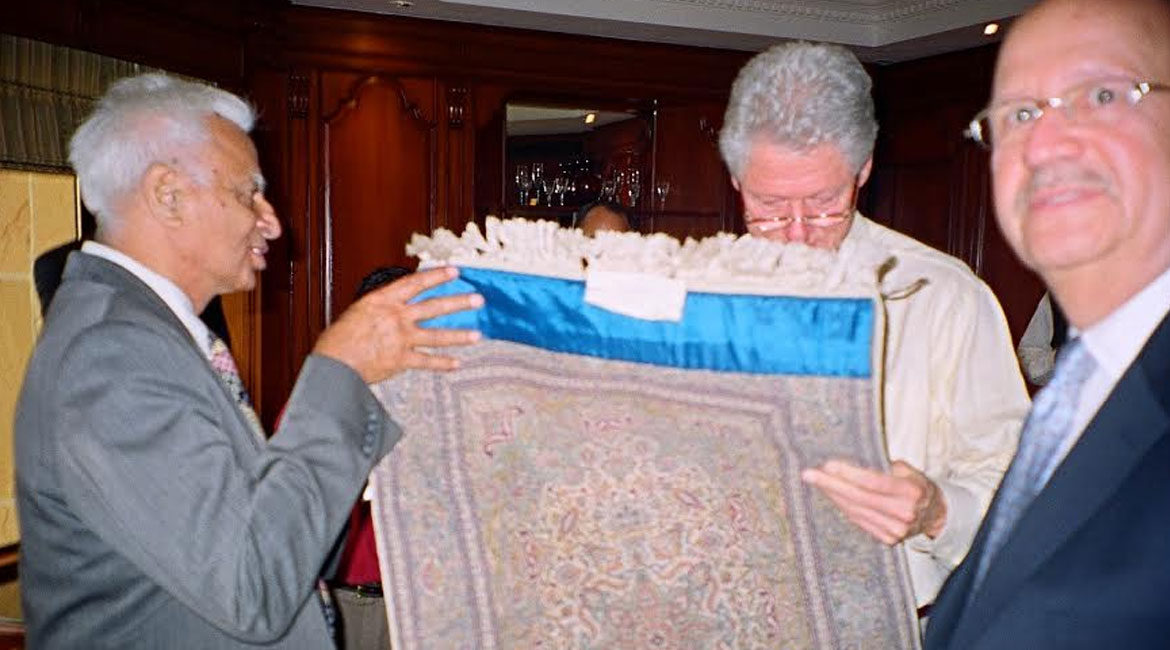 May
23
Why Mr. Bill Clinton praises Yak Carpet as the Best Carpet Store
May 23, 2017
1 Comment(s)
Yak carpet is one of the oldest handmade carpet and rug stores in the Indian Carpet Industry. Many celebrities have visited this unique store and have only given good compliments about Yak Carpet. Mr. Bill Clinton, who was the president of USA, wouldn't have gone rug shopping had he not been recommended about the same from reliable sources. I am going to tell you some main reasons as to why the Former President of USA has all the praises for Yak Carpet, which is literally like a go-to mecca of handmade rugs.
1) Huge Collection: – They have a huge collection of handmade carpets. Here, customers can find a carpet of their choice. Imagine any design with any color combination; it is unlikely that you shall not find what you are looking for. There are so many options to buy carpets and rugs for your home, office, temples as well as outdoor. You can select according to a specific design, home interior, color combination, sizes etc.For example, if you want to buy a handmade carpet for your living room or bedroom but you don't have an idea about carpet then you can tell them about your home interior design and size, they will provide you the same carpet, which is the best option for your living room and bedroom. They have all types of rugs like traditional carpets, which include Kashan design, qum design, tree of life, hunting tree of life, medallion, floral etc in pure wool and silk material. For a modern home interior, they have great collections of modern woolen carpet including contemporary designs, abstract designs, geometrical design etc. to name a few.
These above for if you really want to buy handmade carpet. If you don't have enough money and want to buy a carpet then you can purchase dhurrie. They have a beautiful collection of handmade dhurries for the modern home as well as traditional home. Handmade durries are very cheaper than handmade carpets. Handmade dhurries are the best substitute handmade carpets
2) Custom order facility: – They are the best manufacturers for handmade carpets and rugs. So if you want regular sizes like 3'x5'ft, 4'x6'ft, 5'x8'ft, 5'x7' ft, 6'x9'ft, 8'x10'ft, 9'x12'ft or 10'x13' ft carpet then you can buy from Yak  CarpetStore otherwise if you want any other size in your color combination and design pattern then they can also make an exactly same carpet for you according to your requirements.
3) Trustworthy Carpet Store: –Yak carpet was established in 1976. They use excellent quality of material for the weaving of rugs and durries. For woolen carpets, Yak Carpet uses New Zealand wool which is the finest quality of wool and for silk carpet and silk is produced in China, China was awarded for producing pure silk. Many of the retailers sell artificial silk carpet which is actually made by nylon and polyester as pure silk carpet. There is a huge price difference between pure silk and artificial silk but they charge for artificial silk carpet as pure silk.  Yak Carpet never uses artificial silk like nylon for weaving any carpet.
4) Stellar Customer Service-: They have great customer service. For example, if a customer gets confused regarding material and design then they also suggest the right material according to the traffic of that place. Also, they literally go out of their way to make sure that the customers get what they are looking for.
5) Lower price range: –They are manufacturers of handmade carpets and handmade durries and provide pure and very fine material carpet in a lower price range. You can compare their price with any other handmade carpet retail shop. You always find the best price on the stock as well as on custom order.
Hence, it would be right to conclude that Mr. Bill Clinton did not only choose Yak Carpet just like that. After a thorough survey via reliable sources, Yak Carpet was chosen after a lot of consideration.