Feb
18
Best ways to use rugs in a small apartment
February 18, 2019
0 Comment(s)
Most apartments have limited room, which makes designing your living space a challenge. An area rug is only one accent which you can use to add comfort, warmth, and safety to your apartment, no matter how big or small it is. And since area rugs come in different shapes and sizes, you can easily find the right one that fits the various dimensions of your apartment. A rug is used for many purposes. For one, these can reduce noise in apartments which comes from outside or when somebody walks on a wooden floor. It has been also proved that rugs are beneficial for allergy sufferers as these traps and contain allergens, keeping those out of the air. Still unsure how area rugs can make apartment living more comfortable? Read the below tips-
Separate your space:
You can add area rugs to separate and define the space in your apartment. You can use a runner for separating two rooms together within one theme. Area rugs with different functions can also be installed in different areas of your apartment. A round rug could be installed in your entrance or below the coffee table in your living room, while a silk area rug would be a great choice for your living room area. Choose your rugs, colors, and designs carefully because not every carpet and rug is suitable for every space. A rug with neutral shades will go well in a bedroom, as these colors create coziness and calm touch. In contrast, an area rug with bold patterns and colors would look great in the entrance.
Match with furniture and décor:
Area rugs help to create a focal point surrounding furniture and decor. Before buying a rug for your living space, consider your apartment's sofa, chairs, tables, walls, and decor, and only purchase one that will prove a complement for your decor. For buying this perfect rug, you will have to consider the rug's patterns, textures, colors, and dimensions.
Add textures and layers:
You can enhance the entire view of your apartment by adding textures and layers with rugs. If your apartment has dull-colored old carpet and also you don't have much money to buy a large one then place a small rug with some additional color and texture on it. On the other hand, if you're choosing several area rugs for giving a theme to your apartment choose ones with the same color palette for a mix and match look.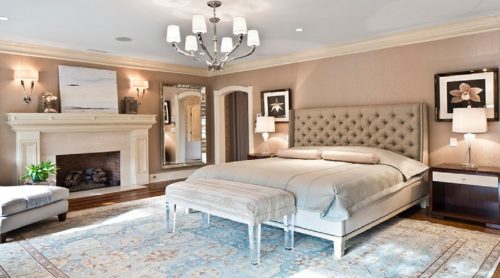 Make your space look larger:
For small apartments, rugs with the right color and size can make space appear larger. Choose area rugs that are bold or neutral in color to make a room look bigger. To prevent your apartment from looking cluttered, place a small size rug or medium size rug in the center of your room
Add comfort and warmth underfoot:
A handmade carpet gives a smooth and cozy touch to space. Use area rugs which area you used to walk, sit and stand. Shop wool area rug for a high traffic area and a silk area rug for a low traffic area.
Read More: HOW TO MATCH WALL COLOR WITH YOUR RED CARPET THIS VALENTINE