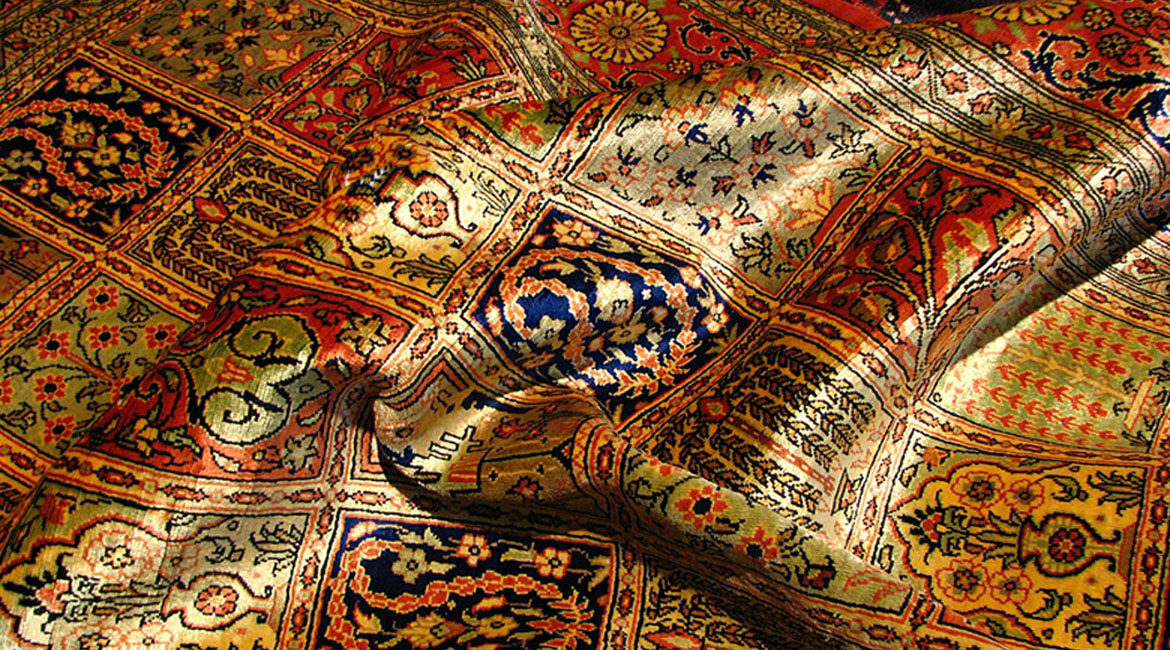 Jul
12
Why Handmade Carpets are more Expensive than Machine Made Carpets
July 12, 2017
1 Comment(s)
Most of the people want to decorate homes like a palace and this is only possible if they use something different from others. If we talk about floor decoration you can see machine made carpet is everywhere and it gives a very ordinary look so if we want to decorate it like a PRO then we have to choose something different from others.
Handmade carpet gives a look which shows the overall decoration to a next level. I am going to write this blog for telling you some important and true reasons for why handmade carpets are more expensive than machine-made carpets.
The difference in Materials: – Handmade carpets are woven in natural yarns such as wool, pure silk, cotton, jute etc. but machine made carpets are made in nylon, polyesters etc material which is making by men. The best-known silk is obtained from the cocoons of the larvae of the mulberry silkworm Bombyx mori reared in captivity and pure wool yarn is made by hairs of sheep. So the material which is used for weaving a handmade carpet is more difficult to find and collect as compared to polyesters or nylon material.
The difference between manufacturing techniques: – There is also a big difference between the manufacturing process of handmade carpets and machine made carpets. A handmade carpet is woven on a loom which is the foundation of horizontal and vertical woods. This type of foundation is called handloom. A handloom is totally operated by hand. A machine made carpets are made by a machine which is called as power loom. A power loom is operated by computer. Handmade carpets are woven in three techniques and the prices are depends on these techniques.
Hand knotted technique: – This is the oldest and hardest technique for weaving a handmade carpet. In this type of weaving, weavers insert the "knots" into the foundation of the rug and they are tied by hand, this makes up the "pile" of the rug. This is a very tedious or difficult and time-consuming
Hand-Tufted Technique: – Hand-Tufted carpets are woven using a primary cotton cloth and drawing design on it. After that weavers use a drill machine for inserting materials in the primary cloths according to design and also add secondary cloths for backing support.
Flat woven: – This technique is followed for weaving dhurries. Handmade dhurries have no piles and these are very thin than a handmade carpet.
Manufacturing time period: – A handmade carpet takes approx 3-12 months to complete. This is totally handwork and weavers can tie about 10,000 knots per day. A machine made carpet takes maximum 2 hours to complete depending on the size of the carpet. So you can make minimum 10 machine made carpets per day (in a small size) on a single machine. The productions of machine made carpets are high and processes are very easy as compared to handmade carpets.
Color: – Handmade carpets have fixed color because weavers use a wet dying process for coloring yarns. Machine made carpets do not have 100% fixed or fast color so it will go faded according to time. The prices also depend on color combinations because if a carpet contains 15-20 colors then weavers dyed yarn in 15-20 colors and it takes time.
Durability: – The durability of handmade carpets is high. You can use a handmade carpet for approx 10 to 50 years without any manufacturing and coloring problems but you cannot use a machine made a  carpet for more than 10 years in a good condition.
So, the prices of handmade carpets depend on the sizes of carpet, colors, manufacturing process and weaving time period and these features make it more expensive than a machine made carpets.