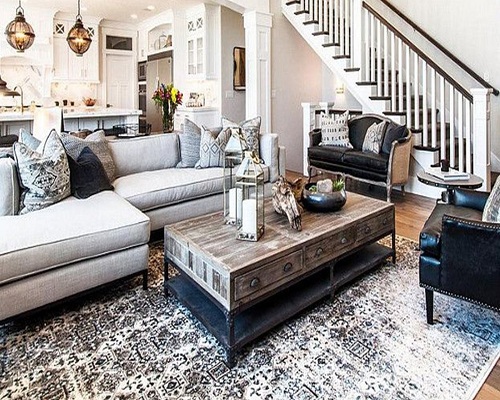 May
12
How to Count Knots per Square Inch in a Rug and Carpet?
Counting rug knots is one of the most significant ways of determining the quality and origin of the rug. However, counting rug knots is not the only and direct indicator of a rug's value or cost. Knot density it a conventional measure of quality, particularly for handmade rugs. Knot count tells you a lot about the fineness of the carpet. This is crucial because this tells you the level of detail a rug has. This blog is solely dedicated towards educating you about how to count rug knots per square inch in a rug. Here are the simple steps you need to follow.
Turn the Rug Over
The first step towards counting carpet knots is to turn the rug over so that the face of the rug is down, and the knots on the back are exposed. You can only count the knots of a rug on the backside of a rug. When you flip the rug that is when you can visibly and clearly identify the rug pattern and design.
Know the Type of Knots You are Looking for
Knots can be broadly classified into three main types, namely Persian Knots also known as Sennah Knots, Turkish Knots also referred to as Ghiordes Knot, and Jufti Knots also called the False Knots.
A Turkish knot is symmetrical knot and can be easily recognized through two small bumps between one knot usually found on the back of the rug. It looks like a double knot. Places such as Turkey, Azerbaijan, Armenia and North Iran are renowned for practicing this kind of a knot.
A Persian knot is an asymmetrical knot that is open to one side. This kind of knot is less bulky and does not leave any gaps. Persian Knots are used to create more intricate patterns. Places such as Iran, Pakistan, Afghanistan, Tibet, Nepal, China and India are well renowned for using Persian knots.
In case of Jufti knots, the weaver of the carpet ties the knot around four warp threads instead of tying it around two warp threads to save time and effort. A rug with this kind of knots is lower in quality and value.
Count the Knots Per Square Inch (KPSI)
Knots Per Square Inch (KPSI) is the standard measure for counting rug knots. To count the knots per square inch, first, count the number of knots that are running vertically on the back of the rug for a distance of one inch. To ensure you have counted correctly, you can count it for a couple of inches and then use the average count. After this, count the number of knots that are running horizontally using the same method.  Now multiply the number of knots per inch running vertically with the number of knots per inch running horizontally. The product of these two numbers is your Knots Per Square Inch (KPSI) of the carpet.
You can browse through our rug world that offers an exclusive range of authentic, original, and premium quality rugs. If you want a rug and don't know where to start get in touch with us, we are happy to assist you.
Also Read: 5 Tips to Beautify Your Living Room