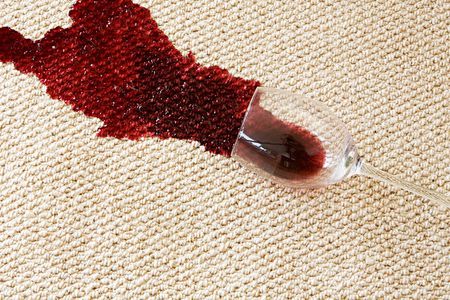 Mar
25
How to Remove Wine Stains from your Handmade Carpet?
March 25, 2021
0 Comment(s)
What can possibly go wrong if you are planning on adding a beautiful rug in your seating area? If you are a homemaker you know this is not a comment that you can agree on. As much as we all love to see our designer rugs laid out beautifully in our seating space every day it is not possible because of the hazards posed by stains and dirt.
So, we often tend to tuck in our beautiful piece of handmade rugs far inside the closet and take it out once in a while for any occasion. But even then, there is always a very high chance of spills and stains. From accidentally dropping a wine glass to children running around with muddy feet- you need to be prepared for all. If that situation does arise, the very first mistake we make is trying to rub the stain off from the rug. This just led to making an even bigger stain which is harder to take out. But if we can remember a few things it is always easy to avoid such catastrophes.
Effective Tips to Remove Wine Stains
There are a few ways that are actually effective in removing wine stain from handmade rugs which are readily available as well as do not cause any damage to your precious possession. Read on to know how to use them effectively.
Vinegar and Baking soda 
The very first precaution we should take after the spill is to dab the area and not rub it. Soak up the excess with a clean cloth or tissue. This will make it easier to take the stain out.

Next, we have to prepare a solution using two cups of warm water in which one tablespoon of either dish wash soap or club soda along with a tablespoon of white vinegar must be mixed

Then using a clean white cloth and pour a little amount of the solution on the stain and keep blotting the area till the stain fades away.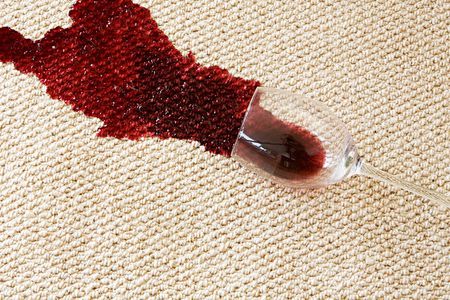 Using Hydrogen Peroxide
Hydrogen peroxide is something that is not recommended by many people as there is always a chance of colour from the rug fading. So, it is best to test this solution before applying it.
The first step of

rug cleaning

should always include blotting the stain after the spill with a clean dry cloth or tissue.

Make a solution using one part of the dishwasher with two parts of hydrogen peroxide. If there is no sign of fading colour, we should continue blotting the area using this solution.

One thing to note is that we should always avoid applying hydrogen peroxide in more delicate rugs like the

Silk rugs

as the material is more sensitive to harsh chemicals.
There are many cleaning products available in the market which you can buy, or simply opt for cleaning services that are just a call away. However, the methods mentioned above are tried and tested to be effective and require little effort. These methods are applicable to any kind of rugs; be it an Indian rug or a traditional carpet. 
These are the best methods to take out any stain as quickly as possible. So, now you can take out your best piece of rug and display it with pride without any worries.