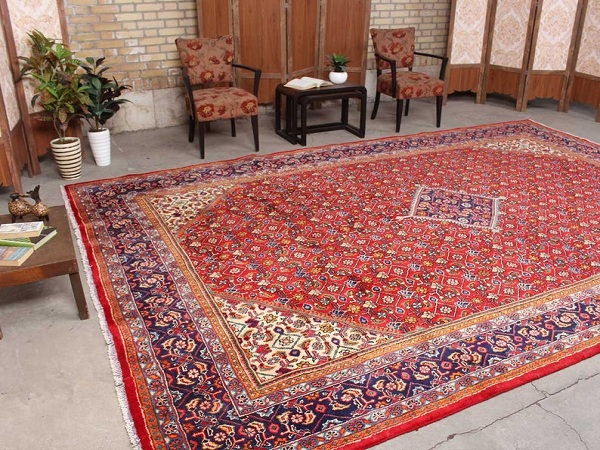 Nov
18
How to Stay Cozy with Carpets during Winter 2020-21
November 18, 2020
0 Comment(s)
When the temperatures drop, you need your home to be as warm and comfortable as possible. Having the right plan in place will ensure that your home stays toasty and warm when the cold months arrive. From insulating your home to decorating it with fine handknotted rugs and carpets, to make it feel cozier, there are plenty of ways you can create and keep a warm home throughout the frigid winter months. Read on for some essential tips that will get your home prepped and ready for the season so you can stay cozy.
Prepare for the Season
As temperatures start to plunge, it's wise to prepare your home before it's too far into the cold months of the year. Start by having your furnace inspected by a professional to ensure that everything is in good working order. It's also a great time to change your air filter to keep your system running smoothly. Most air filters should be replaced every 30 days, but you can find some that last 90 days, and some that are washable so they can be reused. Ensuring that your home's heating system is working the way it should is the best way to prepare before winter arrives. Check your roof to look for any possible signs of damage, and make sure your gutters and downspouts are clear in the event of an ice storm or heavy snow.
Insulate
If your doors and windows are drafty, it won't help to keep you warm. Proper insulation around all doors and windows prevents the warm air from escaping and the cold outdoor air from getting inside. Check all of your windows and doors and look for signs of worn-out seals around the frames. A simple update like adding new weatherstripping or fresh caulk will seal the gaps to keep those cold drafts at bay. Don't forget to check your garage door, too. If your garage door isn't properly sealed, it can make the entire house feel colder. If you need help, contact your local utility company and ask for an inspection. Many companies will give you a free evaluation to help you identify areas where you could be losing heat and wasting energy.
Keep it Warm
Once your heating system is inspected, and everything is properly insulated, you can incorporate a few other things to ensure that your home stays cozy all winter long. Consider these tips to help you stay comfortable, even when the temperatures start to drop outside:
Blankets: Now is the time of year to stock up on blankets to keep you warm this winter. A thick, soft blanket is a great companion when you're curled up on the couch watching a movie or reading a book. Look for blankets made of insulating materials like cotton fleece, wool, or a friendly down alternative. These materials are super-soft, and they'll keep your body warm while you take a long winter nap or lounge in the living room.
Rugs: An area rug is a smart way to warm up any home, especially if you have hard surface floors like tile, vinyl, or wood. Choose fine woolen carpets or timeless Persian Carpets for a perfect choice this winter. Shag rugs area great choice too, if you really want to make your home warmer, since these soft rugs are made of a thick, high pile. Placing a large area rug underneath your bed will make it much more pleasant when you get up in the morning since you won't have to walk on cold, hard floors right when you wake up or get up in the middle of the night.
Fireplace: Nothing is quite as cozy as a roaring fire. If you have a fireplace, make sure it's clean and ready to use before winter arrives. You should have your fireplace inspected, and the chimney swept so that it's ready to be enjoyed all season. Stock up on firewood if you have a wood-burning fireplace so you'll have plenty of fuel when the temperature drops. Ensure the flue is closed when the fireplace isn't in use to keep cold air from getting inside. Fireplaces are excellent if you want to heat your home on a budget, and they can lower your energy bills by a significant amount, especially if you have a smaller home.
Heaters/Thermostat: To keep your home warm and cozy, upgrade to a smart thermostat. These unique devices start to "learn" your preferences and habits to keep your heater working at prime capacity while saving you money. Use your smart thermostat's app to control the temperature in your home when you're away. It's also quite handy when you want to adjust the thermostat, but you don't want to get out of bed or off the couch to change it. Ask your HVAC professional about the cost to install a smart thermostat and whether or not it will work with your home's heating system.
Bedding: Fall and winter are the times to update your bedding to something warmer. Flannel sheets and pillowcases do a great job of keeping your body warm while you sleep. Look for a thick comforter made of wool or material like down alternative, which is hypoallergenic and has fantastic insulating properties. You can also layer your bedding so you can adjust it to your desired level of warmth. A heated mattress pad or blanket can also be a smart investment, especially if you tend to be cold while you sleep.
Outfit: Keep your feet cozy and warm at home with a good pair of slippers. Look for slippers with a good sole with grips, so you don't slip when you're walking around. Winter clothes like a thick cotton beanie will keep your head warm. Check your closet and make sure you have a quality coat, jacket, and a few sweaters. A long-sleeve flannel is the right choice if you want to stay cozy inside since it's warm and soft but not quite as heavy as winter outerwear.
Also Read: Fall Area Rugs for your Home 2020