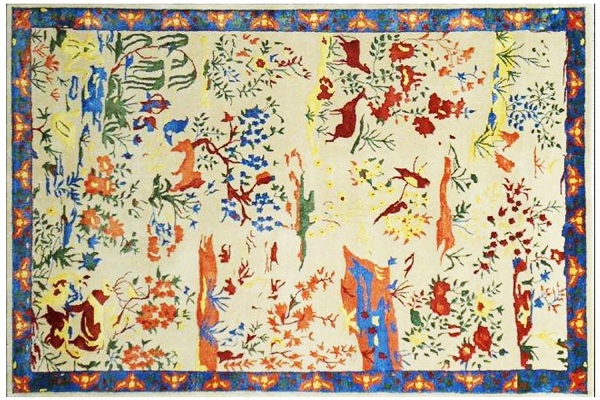 May
18
Kids Rugs and Carpets for an Ideal Kids Room
Whether you are a proud parent to a newborn baby, a young toddler, or a middle schooler, it is important that you know what you are placing in a child's room and how it can impact your child's psychology, mood, emotions, and logic. Like everything else in a child's room, a simple carpet can largely impact your child's subconscious mind in a way that you can't even begin to imagine. To help you pick the perfect carpet for your little one's little kingdom, our rug experts have come up with a ready list of ideal kids rugs.
Bright Geometric Design Rugs
Apart from having an aesthetic impact, bright geometric design rugs add a sense of coordination and cohesion to your child's room and rub off the same on your child's subconscious at a young age. These kids rugs are a simple yet powerful addition to your young one's bedroom. Bright geometric design rugs also add vibrancy, curiosity and positivity to the room.  This is ideal for a child's growth.  Adding colours to your child's life adds colour to the way they think and process their environment.
Playful Theme Based Rugs
Colourful theme based kids rugs can be ideal for your child's room in more ways than one. You can choose amidst various theme-based rugs such as animal theme based rugs, sports-based rugs, and alphabet and number counting themed rugs. Kids rugs with a whimsical theme like fairies, unicorns, clouds, or butterflies will heighten their ability to imagine and harness their curiosity. Rugs like alphabet and number counting themed rugs will enhance your child's learning capabilities. Any playful theme-based rug that adds inquisitiveness to the way your child perceives the world is absolutely ideal.
Colourful Shag Rugs
Shag Rugs are plush, soft and sophisticated. A bright shag rug splashed with colours can be the perfect add on to your child play area. They are capable of protecting your child and all your young one's toys from falls, wear and tear. You can choose to use a colourful theme based shag rug and be rest assured that it can conveniently become your child's favourite play spot in no time. Colours and comfort are unsurprisingly always a child's favourite.
Hobby Based Rugs
All children have specific interests and hobbies. You can always pick a rug that mirrors your child's hobby. If your child like to play a particular sport say baseball or basketball, you can buy a baseball or basket themed rug for your child's room to keep him/her focused and motivated towards following his/her dreams.
If your child likes to play an instrument, say a guitar or a piano, you can add a music-themed rug to his/her room to convey your support. If your child has a favourite cartoon character or an ideal cartoon series, say kung fu panda or Peppa pig you can add a cartoon themed rug to your child's room and let him/her know how much you acknowledge and respect his/her choices. Hobby based kids rugs can do wonders to boost your child's confidence and ability to make decisions for themselves.
For playful yet modern and classy kids rugs you can browse through our rug shop and shop for the perfect kids carpet. For more expert advice, get in touch with us today!