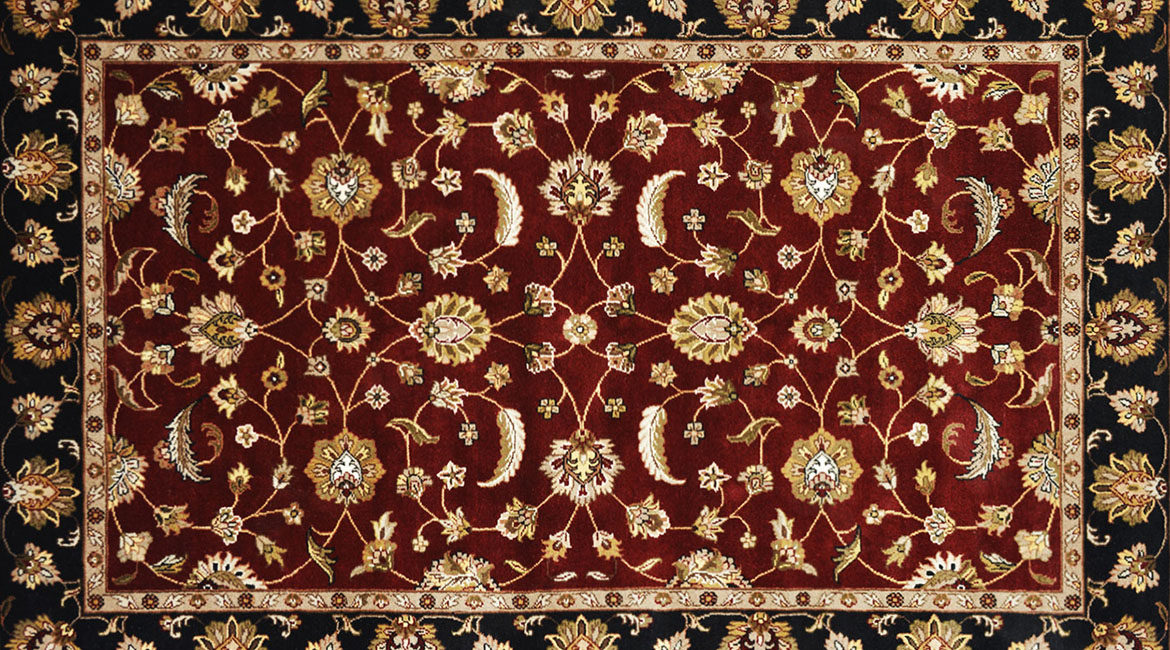 Apr
25
How to know the difference between a Modern and Traditional Carpet?
April 25, 2017
4 Comment(s)
Buying a carpet is a little expensive thing because these are expensive, especially handmade carpet. So before purchasing a handmade carpet, you have to decide that which style is suitable for your home. If you know something about carpet such as design, carpet characteristics etc. then it's easy to select a perfect carpet for your home. So one of the most general ways you can narrow down your search is by picking a style – traditional or modern. Each is unique, so it is important to know the differences, so you choose the right one for  
1) The differences in designs-: The design pattern of traditional carpet is different from the modern carpet.
 Traditional carpets: If we talk about hand knotted rug then hand knotted rug is made in traditional design pattern as well as in a modern design pattern. It means a modern design can be made in hand knotted but a traditional carpet you cannot make in hand tufted. Traditional rug is always made by hand knotted techniques. Due to hand knotted techniques, these are highly durable. There are some designs of traditional carpets.
a) Tree of life: – This is very popular design in traditional carpets. It includes branches, chinar tree, birds, the chattering of birds, animals etc. It means a beautiful representation of wildlife. It also includes the hunting tree of life (Representation of how people hunt the animals). These are made in silk or in wool.
b) Qum Design: – It also includes an intricate design pattern. This design contains the perfect setup of boxes. It means the ground of the carpet is divided into small squares and every square contains unique and tiny design pattern. These are also made of silk and wool.
c) Kashan design-: Kashan design is very old and traditional design pattern which is originated from Persia in the 17 th century. This design looks like a drum.
d) Ardabil design: – This design looks like a chakra in the center of the carpet with small tiny motifs and is very unique.Traditional carpet has very intricate and tiny design pattern. Due to hand knotted, these are available in many color combinations. Traditional carpets mostly "One of a kind" carpet.
Modern Carpets –: Modern carpets always contains simple design with bright colors. These are woven by hand knotted technique as well as hand-tufted technique. There are some main designs in the modern carpet.
a) Geometrical designs: This design includes circles, squares, triangles, a combination of circle, oval, hexagonal etc.
b) Stripe design: – Most of the people like stripe designs. It contains simple lines or a stripe on the ground of the carpets. The stripes may be in one color or in multi-color.
c) Abstract design: – Abstract design is always unique. It includes the net of floral, flags, or something human type figure etc.
2) The difference in color: – Traditional carpets typically found in shades of maroon, black, red, navy blue, brown, white, and green and often have traditional motifs including flowers, birds. It mainly shows the local cultures. Now a modern carpet contains typically bold and vibrant colors such as yellow, ivory, blue.
3) The difference according to placements in the room : – Traditional carpets are ideal for a traditional home décor. If you are looking to add a touch of style or luxury to your home, then you should use traditional area rugs. If you are going to shift in a new home or in the apartment which has a modern home interior then you can use modern carpets.