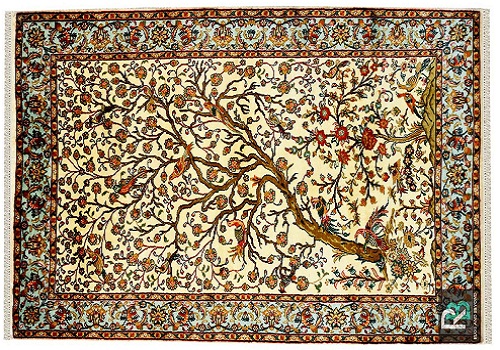 Oct
29
Silk Rug Buying Guide To Ensure An Authentic Buy
October 29, 2020
0 Comment(s)
Silk Rugs are renowned for their deep and intricate designs, lush feel, bright colors, and tight weave. They are fabulous and exotic creations that can bring a dash of vibrancy and class to just about any space. Silk rugs are an epitome of luxury. These magnificent art pieces are high-value products. This makes testing the authenticity of a silk rug before making a purchase all the more imperative. Here is an easy to follow silk rug buying guide to effectively differentiate between an authentic silk rug and an artificial silk rug.
Knot Numbers
Before you purchase one or more silk rugs, it is significant that you check the knot numbers per square inch of the rug question. Ideally, authentic and original silk on silk carpet comprises an average of 576 to 600 knots per square inch, and genuine silk on cotton carpet consists of an average of 376 to 400 knots per square inch. Know that silk on silk carpet with anything less than 500 knots per square inch and a silk on cotton carpet with less than 300 knots per square inch are certainly not authentic and far from being genuine.
The Burning Test
If you perform "The Burning Test,"  you will be able to find out if the carpet in question is an authentic silk rug.  To perform the burning test, you must pick a few threads from the center of the carpet and burn it. If you see that the threads are burning like firecrackers, then the rug under consideration is an artificial silk rug. However, if you see that the threads are burning like hair, then the carpet under consideration is a pure silk carpet.
Pile and Fringe Check
Know that silk rugs have a short pile and are tightly clipped. This keeps the sensitive silk fibers protected and keeps the intricate details of the silk rugs highlighted.  If you see that a rug has long piles, then it is certainly not a genuine silk rug. When you look closely at the fringes of a silk rug, you will notice that the fringes extend naturally from the rug's body.  If you see that the fringes are either not made of silk or look like a separate section attached to the rug, then it is definitely not an authentic silk rug.
Design Details
Another significant way of determining if a rug is an authentic silk rug is to look into the design details. It is advisable to read research about a few sought after silk rug designs before making a purchase. Some popular silk rug designs include Qum, Bokhara, Khal Mohammadi, Hereke, Kashan, Nain, Kirman, Meshed, Ardabil, Isfahan, Hamdan, and Tabriz.
You can take a soulful look through our vast array of authentic silk rugs. Our extensive silk carpet collection caters to all your possible budget, taste, style, and requirements. For further assistance on buying an authentic silk rug, you can get in touch with us, and we will take it from there.