Apr
10
Tips to ensure your Handmade Carpet looks brand new all the time
April 10, 2021
0 Comment(s)
There are very few individuals you can find that don't own a carpet. Anyone who owns at least one carpet can advocate that it is a cool thing to buy, as it is one of the most prolific options to beautify your space. However, truth to be told if you own a carpet it needs a lot of daily maintenance. Also, the procedure may vary depending on the fabric or the technique used for making the rug. Cleaning an authentic intricate hand woven Kashmiri silk rug is a time-consuming job. So, here is some suggestion that can give you a more clear perspective on how to keep your carpet young for a long time.
Cleaning regularly to ensure longevity 
First things first, that is you have to do rug cleaning in a regular interval. Vacuuming your precious carpet is something that you have to do at least twice a week. The only rule you have to keep in mind while vacuuming your carpet is to use only the suction option and clean each corner thoroughly. Also, it is a really good idea if you can get a professional cleaner to help you with some more intense cleaning at least one to two times a year.
Buying hand-knotted rugs 
Hand-knotted rugs are something that you can trust to stay with you for life. Fully hand-woven this method of buying hand-knotted rugs is one of the oldest and most traditional forms of art. It takes months, sometimes years for skilled workers to finish one rug. Also, this variation of Indian Carpets is always made from natural materials like silk or wool and a lot of material is required to make one carpet as it is woven densely. So, natural material and dense weaving is a combination that stays for a long time.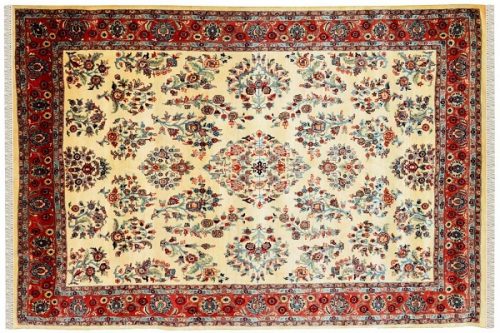 Always ask for a warranty card while buying your rug
Asking for a warranty certificate is always a smart move, as buying something as expensive as a Kashmiri silk rug which is a handmade rug is an investment of a lifetime. It is only natural that you would want to be ensured about the longevity of your carpet by asking for a warranty certificate. Also, a warranty card would help you in case you think of passing the ownership of your carpet to some other buyers. Although not all ownership certificates can be passed on to the other buyer, the person who will buy your rug will get a clear idea about its quality and shelf-life.
Buying rugs that are made of authentic material like pure silk or New Zealand wool
The quality of the material is the key to a long-lived rug. The oldest piece of rug that can be found is made around the 5th century BC it still has the same vibrant colour and displayed in the Hermitage museum. The reason behind this long history of the oldest rug is because it is made from the purest and natural material. So, choosing the right material vastly matters for the self-life of your rug. Whether you buy rugs online or from a dealer you need to ensure that the material used in the rug is authentic.
In short, proper maintenance and care along with investing in a quality product is the key to ensuring the rug stays brand new.